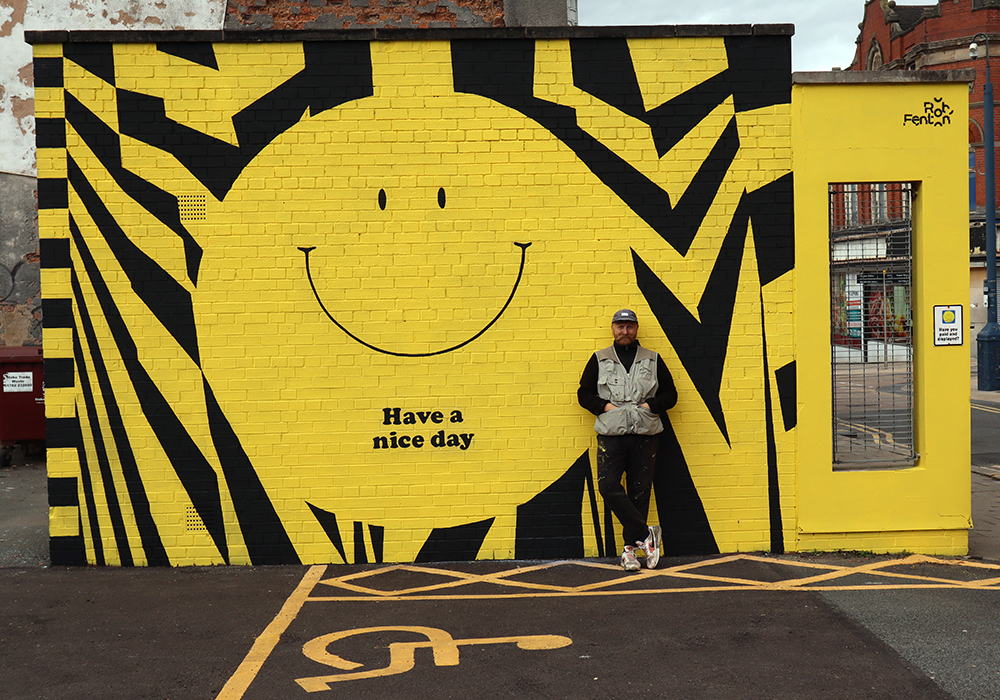 Hello!
This is Rob Fenton.
If you're reading this I'm guessing you want to know a little more about me – or you may have stumbled on this site, either way, welcome and I hope you're into what you see and read!
Definitions differ but I describe myself as a Graphic Artist. In short, though I design & paint Murals and write Graffiti alongside dabbling in street photography, all of which you can see examples of in my portfolio.
Spanning over twenty years, my creative background has seen me delve deeply into Graphic Design, Photography, Typography, Illustration, Graffiti, Screen printing, and painting Murals. My work, although in a constant state of evolution, is a mixture of all of the aforementioned disciplines combined.
As well as being the co-founder of UK brand NTRPRNRS alongside being the former Creative Director of a national agency specialising in Exhibitions, bespoke Screen printing & Murals, I've always wanted to expand my own work and develop my personal practice more intensively. The images shown across my online portfolio are a snapshot of my work, in progress. I'm currently experimenting with the many creative options that lie before me. The work seen across my portfolio is all presented without comment. I feel this approach provides insight into some of the projects I've developed to date and suggests the direction I'm heading in.
I'm a defiant advocate of Graffiti art and the culture it's nurtured. I'm the first to admit that I have and will always champion its place within our society and hold it in high regard for expanding the multiple artistic offshoots it's spawned and opportunities it's since delivered throughout our Cities and home environments. Rural to Urban, Hyper-locally or Globally, I feel its influence can't go unnoticed. 
I'm drawn to the unusual, the forgotten, and the neglected parts of society. How we interact with the shared space and have a strong passion to re-ignite them. I have a fascination with juvenile street Graffiti and find abandoned places intriguing. I often photograph things such as these whilst on my travels.
You'll often find me with headphones in, locked into my own world of 'Late Night Tales' compilations.
Want to chat more? Interested in commissioning me?
Say hello, let's talk.