I can't remember the first time I visited Brixton or even when I first travelled south of the Thames but there are certainly things that will always stand out as symbols of south London life.
It may seem obvious to say that I'd spend most train trips from Victoria to anywhere south of the river staring out of the windows and seeing who was most up across that part of the rail network but what was more impressive was the volume of inner city artworks that covered most areas across both residential and commercial properties.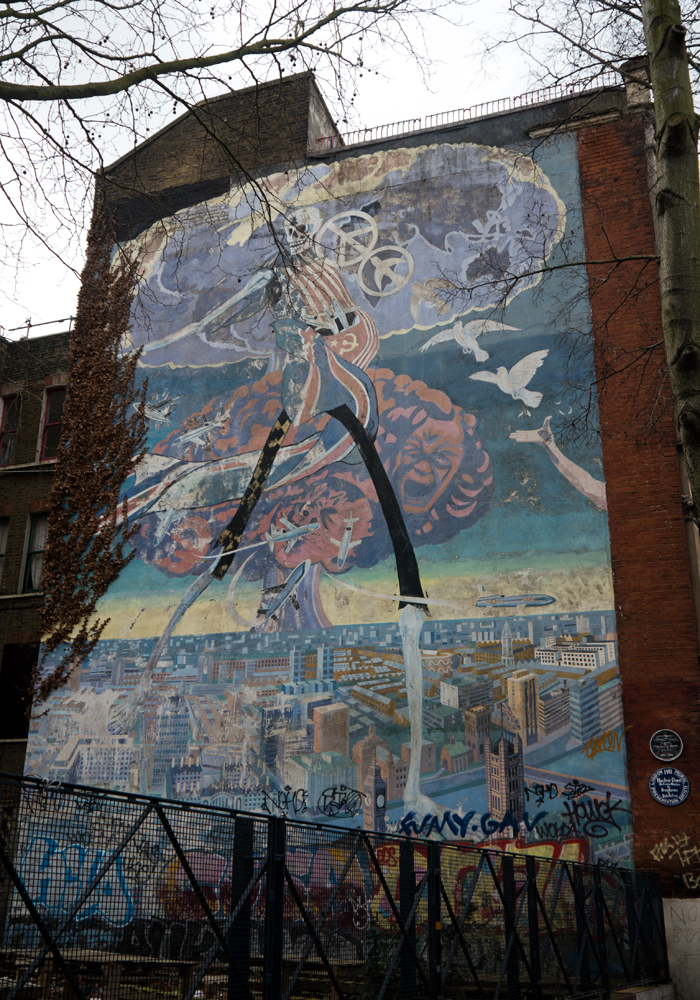 Like many larger cities, both sides of London's high-rise/rooftop wars (those being the ongoing battles for space between scenes of Graff and Murals) aren't to be sniffed at! To say you'd have to be living under a rock to have not noticed what I'm talking about is an understatement – This isn't a new thing. 
Most writers & artists (mural or otherwise) who don't pursue the conventional formats of a gallery as an outlet and who produce their work outside predominantly have been pushing the boundaries for 40+ years and London isn't without its key figures. 
Brian Barnes was one of these. Many (read as I) would consider him at the forefront of the British mural art movement due to his vast legacy and time dedicated to painting at a larger scale but all with a difference. that held (and still holds in some circumstances) a particularly strong statement, albeit political, social or otherwise. 
Brian was born in Farnborough, Kent, and raised in nearby St Paul's Cray. He began a course at Ravensbourne College of Art (now Ravensbourne University London) in 1961, leading to a national diploma in design. It's said that Brian stood out as a determined realist painter and went on to study at the Royal College of Art, where he graduated in 1969 with beautifully composed and detailed work. Aside from painting murals, he designed and printed campaign posters for activists.
Unfortunately due to a long term illness Brian passed away aged 77 in November 2021. 
For me his most important piece is the one I'd like to shine a light on within this post. Hopefully whilst on your travels to Brixton you'll have no doubt seen the unforgettable 'Nuclear Dawn' mural across the way from Brixton Market. This is how I first saw it (date unknown however). This painting began in the summer of 1981, eventually seeing completion in the winter months – at its core it holds an extremely clear anti-nuclear message. Something that is extremely relevant still today, March '22, especially with what feels like the uprising of WW3. 
The 25 square metre mural depicts a large skeletal figure standing astride the city of London as a nuclear bomb goes off behind. Below him safely sheltered in bunkers below the Houses of Parliament sit the Government including leaders of the political parties of the time, the Prime Minister Margaret Thatcher, Ronald Reagan and Prince Charles. The skeletal figure is swathed in flags from countries with nuclear weapons; bombs fall out of his hand with one hovering just above Brixton. To the left, a dove flies up and becomes the CND symbol. Behind him the double mushroom cloud shows a map of the world in the main cloud and images of screaming faces in the lower cloud. In the cityscape, Brixton landmarks can be picked out including a mini version of the mural.
This period in history (1979-1985) was known as the Second Cold War when the threat of a nuclear attack was real and prevalent. Due to this climate, it was felt appropriate to highlight the fears and anxieties of nuclear attack amongst the country's conscious. The composition of the mural was inspired by Felician Rops' Sower of Death. Brian's original mural design, painted with water colour and pen, can be viewed in the Print Room at the Victoria and Albert Museum.
Funding for the mural came from the Arts Council, the Gulbenkian Foundation and the Greater London Arts Association. An additional £2,000 grant for the artists came from the Lambeth Council in the form of the Inner City Partnership fund which caused great upset to one of Lambeth's Tory Councillors who saw it as a waste of money.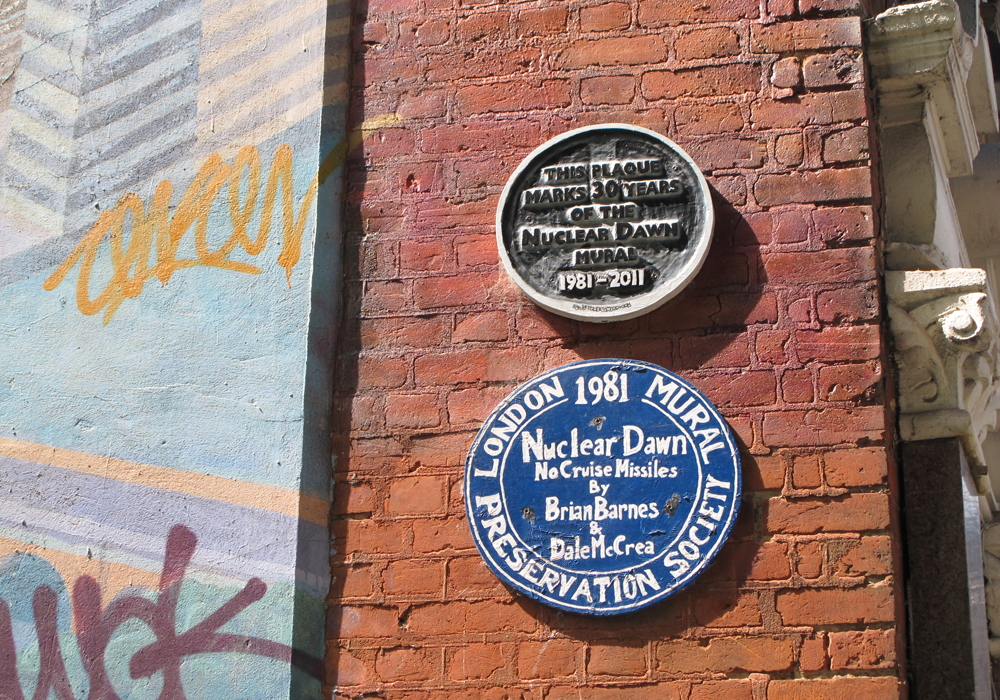 Today Brixton, like most of London, has changed dramatically. The once small section of green land next to the mural now hosts a new multi-storey commercial property somewhat obscuring the magnificence of Brian's mural. What's fantastic to see though is its recent renewal. A body of individuals got together to pursue how the mural could be refreshed and through persistence provided a painted update that was much needed and certainly deserved.
The following video describes how this unique project came together, its key figures and the select team whom Brian trusted to execute the renewal of what I'd wager is his most famous work. 
There's also another video linked below that is a continuation of the project but shows what was happening amongst the mural arts scene during the late 70's and 80's up until present day. All in all a brilliant watch, spare the time, this is our legacy. 
Rest in Peace Brian Barnes. 
May our works forever positively aid the nurturing of our communities.